Four Rings
The driving lights on our ur-quattro aimed low... too low. The bases of their cast-aluminum mounts were bolted to the downward-sloping upper surface of the front bumper. The range of adjustment of the housings on the mounts wasn't enough to raise the beams to horizontal.
I built little plastic wedges, tapered shims, and put them under the mounts. This leveled the base of the mounts, and brought upward adjustment possibilities.
But now the back of the light housings hit the grille/headlight trim, so the beams still couldn't be raised. There's no way to move the mounts further forward to get clearance behind the housings, as the mounts are already at the front edge of the bumper. So I got out my angle grinder, with its 80-grit sanding disk, and started to make some clearance for the light housings.
I shuddered, a bit, at notching a rare grille...
But I thought of the Yamaha DT-1, the first Japanese dual-sport motorcycle. It was a lightweight on-off roader that changed the face of recreational motorcycling. The DT-1 weighed less than 300 pounds, it had reasonable brakes, boasted several inches of suspension travel, and delivered good tractable power from its two stroke alloy motor. It's the bike that put the AJSs and Triumph singles on the trailer for good. I've ridden a DT-1 on trails; the best thing I can say about it is that it crashed well (in the sense that it didn't hurt itself or me). I think the owner tried to give it to me once.
I thought of the first-gen Oldsmobile Toronado, an American GT car. Seven liters of big block and an ingenious FWD system... a turbo 400 transmission flipped backwards and fitted alongside the motor, spinning a diff in a tiny cast iron housing. The floor inside the cabin was flat as a table... even the exhaust pipes were routed outboard, next to the perimeter frame, so as to not disturb that plain. It took a while for Detroit to catch on to front wheel drive, but the 'nado showed that pullers didn't have to be microcars. I owned a '66 and a very nice '67, but in the end sold both cars for less than two grand.
And I thought of the ur-quattro, a homologation special, supercar of its time... with its overly complex brake booster system and notorious cooling issues. We drove it down to Tigard on Monday, and I was reminded how far beyond this jitney our iX is, in creature comforts and driving safety. You'll have a hard time finding an ur-quattro, but if you do, you can probably buy it fairly cheap.
Sometimes, monumental vehicles are not lovable. They're starting points. They're first efforts. They have serious flaws, they have engineering bobbles and maintenance challenges. Plus, they suffer by comparison with their descendants. Once the shield of the old way, the wall of tradition and common practice, is cracked, a wave of innovation and improvement follows. The point of the spear suffers the greatest impact, and afterwards, it seems blunt.
First editions belong in museums. They mark turning points, and illustrate the state of the art at the moment of change. But it's not surprising that the less-well-preserved examples of these early efforts don't attract much attention, nor command much money. As a vehicle-of-use, their shortcomings loom large, and crowd out of the mind (of all but the most devout fanboi) the "historical significance" of the machine. Knowing that Audisport turned one of these into the raging dragon of Portugual '83 does me little good when the electric windows won't roll up.
Sparks flew from some steel reinforcement in the headlight grilles.
A piece of hot plastic, stringy like cheese, flipped up from the smoking work area and melded to my shirt, permanently integrated with the fabric.
The lights point forward now.
Buell Retrieval Operation 2009
On October 15th, 2009, I owned one motorcycle, a Buell Ulysses. That day, Buell's parent company, Harley-Davidson, announced that they'd be halting production and shutting down Buell forever. Then, like a panicky ship's captain who may have hit a reef, Harley starting cutting prices (via factory rebates to dealers) on old-stock and current-year Buells -- BIG price cuts, which led to sharply increased sales.
Another thing afoot was a mass ride to the Buell plant, a gesture of support and appreciation in favor of the 180 people who'd be out of work at the end of the month. That's a reasonable trip for the hundreds of Buell'ers that live in the Midwest; but us Left Coasters were grimacing at the 2000 miles and multiple mountain ranges that lay between us and East Troy, Wisconsin.
As it turned out, a dealer near East Troy still had an '09 1125R... and I figured that riding only one way would be half as hard as riding both ways; so I put a deposit on it and flew out on a red-eye to pick it up and bring it home. What follows is a sketch of that trip.

Part I - Monday, Oct. 26th, 7 a.m. local time
Chicago coffee.
Reality starts to sink in after my first sip. Once that door is cracked, other discordant impressions come to light. The deep-throated announcer on the public address system didn't get that rollicking cadence from a voice coach. He moves from a sonorous recital of the airport's WiFi settings to an unmistakably proud description of the USO facilities. He's not proud of the facilities, mind you; he's proud of the service members he's inviting there.
The non-business crowd hurrying by my seat at the restaurant has a squared-off look that's heightened by the details of their dress. On men, belts are the rule, shirts are tucked in. Portland's casual vibe still hums in my memory, but my button down shirt was a good choice over the killer bees rugby jersey.

Part II - Monday, Oct. 26th, 8:20 a.m. local time, Milwaukee
The salesman is waiting outside baggage claim, and we make it to Hal's Harley-Davidson in New Berlin by nine. H-D dealers always have the best customer lounges.
Buell riders from the surrounding states, plus some from Georgia, and at least one from Alaska are congregating at Hal's for a "last ride" to the Buell factory in East Troy. I'm at Hal's for two reasons -- the ride, and to buy their last 1125R. It's been custom painted pearl yellow, and it's very pretty. I get the lower pegs and tailbag on just as the riders set out, and join the last group.
It's raining lightly in Wisconsin, very Portland-ish weather. Also familar looking, the route is down a major road akin to 99W through Tigard. I have exactly 100 ft. of experience riding it before we leave Hal's. It's well behaved at low speeds, which is a bit of a surprise. The bars are clip-ons, the geometry a careful balance between nimble handling and stability at the bike's 160 mph top speed. My last pure sports bike, one of the original GSXRs, was a handful in a parking lot, but the Buell's no problem.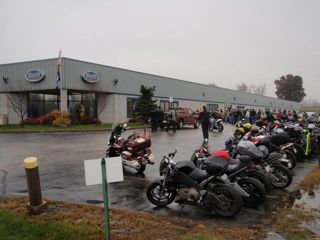 Buell's plant is smaller than I imagined. Over the years, they've turned out more than 135,000 motorcycles, but it doesn't look like a factory to me; it looks like a high-tech machine shop. The employees filter out as the end of their day nears, and every one I meet is an enthusiast. I'm too choked up to go inside. I have empathy for the workers, of course, but they're exceptional and won't be unemployed long. No, I'm emotional because of the loss of this monument to American manufacturing and ingenuity. It's been a long run for that iconoclastic brand, its designs driven by function, its engineers' pens resistant to fashion but appreciative of elegance.
I use the excuse of the long road ahead to leave early.

Part III - Monday, Oct. 26th, 2 pm
It was lightly raining when I rode away from the plant. Then it rained harder & harder for three hours. Everything was wet. When the rain finally stopped my gloves were leaden.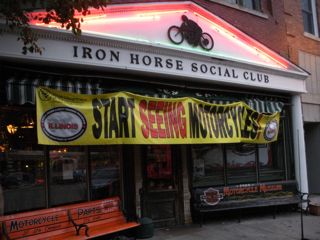 Heading southwest, I reach Savanna, IL, on the road less traveled. I'm looking for a bite to eat when I pass the Iron Horse Social Club on main street. It was not quite dark. As I entered, the proprietors were sitting at a table, engrossed in bookkeeping, and one of them called out, "We're closed, but you're welcome to use the restroom and look around." The Club is full of vintage and antique racing bikes, pre-flathead stuff. The hillclimbers are a special treat.
But I still need food, so I head over the Miss. River and down to Clinton, home of perfectly suitable american chinese food and the biggest goddamn grain elevator complex I've ever seen... by a factor of four. Stopped for the night in good old Coralville, Iowa. The motel desk clerk had been in a fight over the weekend, judging from the contusions on his face. Maybe he's not a Buckeyes fan?

Part IV - Tuesday, Oct. 27th -- Road Choices
I-80 was the central thread of my route home, but not my preferred road. I enjoy riding the state and lesser Federal highways, though travel on them is necessarily slowed by speed limits and municipal areas. There's more room on a little road... more room between me and other vehicles. But as darkness falls, if there are still miles to cover, I retreat to the freeway. Deer and oncoming DUIs are the two main reasons.
As I left Iowa, a strong storm was approaching the Rockies. In North Platte, a fitful night's sleep gave way to a grey moist morning. Two hundred miles to the west, Wyoming was submerging in a snow storm, and Interstate 80 was closed to Cheyenne. The weather maps showed a solid line of winter weather stretching from Montana to New Mexico. Unwilling to go south to El Paso and Interstate 10, I wouldn't be riding west for a while.
A motorcycle requires traction to stay upright; even riding in a straight line, small directional adjustments are always occurring, and each of those requires there be something for the tires to push against. That fact rules out riding on slippery highways, regardless of the comfort factor of temperature. So, other options:
Park the bike at relatives' in Kansas/Eastern Colorado and fly home?
Hunker down in Nebraska and wait for it to pass?
Hitch a ride with some passing truck/trailer?
Rent a truck and haul the machine west?
I dithered a bit, during which time I-80 to Cheyenne opened, then rented a moderate-sized U-Haul truck and tied the Buell down in back. Large cup of coffee, check. Emergency blankey, check. Food and water and a full tank of gas, check. I drove out of town into a pallid landscape, and flakes were coming down within an hour. Once inside Wyoming, the wind picked up, traffic died away, and only the semi trucks were driving above 40... those that weren't in the ditches.
Made it to Cheyenne, but almost got stuck on the offramp; judicious throttle control let the U-Haul crawl up a hill, slow-spinning the dualies, and we ricocheted into a gas station parking lot. The WY DOT website said I'd be there a while: all roads closed out of town. Time to hole up; I scoped out the approach on foot, then, with a running start, got the truck to a hotel parking lot and joined the other stuck travelers.

Part V - Thursday, Oct. 29
Daylight reached around the edges of the double curtains at the Holiday Inn, and I drew them back hoping for a clear day. It was rather the opposite. Gale winds from the north stirred a soup of now-falling snow and that which had fallen in Casper last night. Haphazardly parked trucks and cars and trailers filled the parking lot, abandoned where they'd stopped moving. Drifted snow streamlined every projection above the ground. All roads closed, into and out of town.
But! The breakfast buffet was open, and the wait staff only looked mildly puzzled when I asked for some granola. The wireless network access worked enough for me to dabble with shell scripts for system monitoring at work. The weather forecast was not encouraging. I decided to hedge my bets and buy tire chains for the truck. A local helpful CarQuest had some, and dropped them off at the hotel desk. I put on my riding suit and carried them out to the parking lot for fitment; it only took three episodes of hand-warming and coffee-drinking to get them lashed up.
I triumphantly motored around the parking lot with my steel galoshes. When the freeway opened, I'd be ready.
But afternoon came and went with no change in the weather or the forecast, and only two changes in the road closure report: 1. Conditions around Cheyenne and Laramie had stranded so many that hotels and parking lots were full -- so WY DOT closed the freeways even further out to avoid gridlock. 2. I-25 was open southbound to Denver. That wouldn't help me; even if I could make it to I-70, that road goes across a 10,000 foot pass and then runs in a nasty tight canyon... and Golden, CO, had'd 40" of snow at that point.
The Winter Storm Warning ended at 6 p.m., but no one remembered to tell the wind, and it continued as before.

Part VI - Friday, October 30th Hilltop Holiday Inn, Cheyenne, Wyoming
Overnight the snow has stopped falling, but it's hard to tell at first 'cause the wind's still howling out of the north. The parking lot is almost unchanged -- but the semi that'd hung up on the curb trying to get in has been pulled out, and so the entryway is clear. The trucks lined up in the back are still three deep, still idling, visible proof that the roads aren't open yet. The thaw, if one is coming, hasn't reached southern Wyoming.
A quick visit to the wydot site confirms my fear. The bottom right of the map is a spiderweb of red lines. The truck backup's spread far beyond Laramie -- the freeway eastbound is closed at Rawlins (by the end of the day, it would be closed at Rock Springs, roughly 200 miles west of Cheyenne). I check out in a mood of grim desperation. Though unpromising, there is a road that's at least open to Laramie: US-287 from Fort Collins, Colorado. To catch 287, I'll have to go down I-25, still possible southbound.
Crunch, crunch, crunch... the chains propel the U-Haul out of the lot and over surface streets to the freeway. Semis are stacked everywhere, clogging the parking lots, on the shoulders crowding the roads, stuck in the ice where they've been for 36 hours or more. The wind is gusty, here, away from the buildings nearer the center of the city. After checking the tie-downs and gulping a McMuffin, I set out towards Fort Collins at a conservative pace -- 32 mph or less. Six miles up the highway, not yet to the state line, I lose my nerve.
The truck's broad sides make an imperfect sail, but the wind's power is still sufficient to push the back end around. Rivulets of snow cover the road, like driving in a whitewater creek. The rumble strips on the shoulders provide the only guidance of the road's course. Visibility goes from 100 feet to 5 feet in seconds. I plow through a median crossing and go back to Cheyenne. But once there, I'm ill at ease. A final check of the wydot site shows the closure situation unchanged. Grrr.
I pulled out on southbound I-25 again, pushing through the same mess as before, holding the speed even lower, making progress by stubborn persistence. An hour of that passed... and then the sun came out, and the road was clear. I took off the chains, almost whistling. Cutting across to US-287 on an unpaved county road,

I found the highway and joined a small stream of (fool)hardy motorists headed for Laramie. The first hint that there was more to come was an SUV stopped well off the road. Backwards. Nearing it, I saw a huge patch of ice in the lee of a hill; the road was clear before and after, but that stretch of rink covered both lanes. The SUV'd been going 50, perhaps, and lost it instantly on the ice. Four long black smears on the highway beyond told of the resulting spin, and the rutted shoulder and plowed ditch spoke of a near roll.
From there on, the road went uphill, and the conditions, contra.
The chains were back on, and the experience on I-25 repeated. It was not easier the second time. When the sight of Laramie emerged from the milky mists, I felt like Scott being rescued. (wasn't he rescued from one of the polar expeditions?) The freeway west was open. That road to Rawlins, though, held no respite from worry, only an shuffling of the most-likely-error list. Despite steady plowing, the drifts owned the road for long stretches; and the rude wind alternately whined and barked.
OH YES, I had a beer in Rock Springs, when finally through it. And I tell you now I'll never go back through Wyoming in Winter without AWD and Hakkas.

Part The Last - Friday, October 30th
By evening, the lumbering U-Haul and I'd reached western Wyoming. Alongside the Interstate, some snow still lingered from the week's storm, but the roadway itself was clear. Gun shy from surprise slick spots, I was reluctant to let go of four wheels, and pushed the ungainly beast down into Salt Lake City. I pulled in at the first U-Haul dealer I found, and released the Buell from bondage:

I rode up the road about twenty miles just to check that the bike was still shipshape, then took one last hotel room in Ogden, UT.
Saturday morning I found the road west from Cheyenne was still closed, which made me feel better about the risky detour I'd taken. Once the sun peeked over the mountains, I hit the road for home. 11 hours and 720 miles later, we reached Portland, and the 1125R settled down for a rest next to the Uly.
Return to current PEoID
New band name: Blinding Salt Flats
Back from Bonneville, I'm sunburned under my chin from Sol's reflection off the salt.
Watching the action from the starting line is nice (some of the motors are so highly tuned that they're very temperamental), but the gist of the spectator experience happens 2+ miles down the long course, where most vehicles have achieved 99% of their terminal speed. We spectators must be well off the centerline of the course, but even so removed, the sights and sounds are great. You get the Doppler effect, as the approaching piston engines, wound to maximum output and fighting with the wind, resonate like weak steady thunder. As we watched, about one in twenty engines broke under that ultimate strain, and the sound, then, was like a giant's gargling with metal mouthwash... or pistons and con rods and chunks of crankshaft in a blender.
WHAAAAAAAAAAAAAAAAAAAAAAAAAAAAAAAAAAAAAAAAAAAAAAAAAAFDGDRUMPBAAAaaaaaFDDgrumpBPaaaakkk.....
Everything about the place - the distant mountains, the featureless miles of salt, the heat, the horizon bereft of civilization - speaks to the puny place of humans in the grand tableau of the Western U.S.A.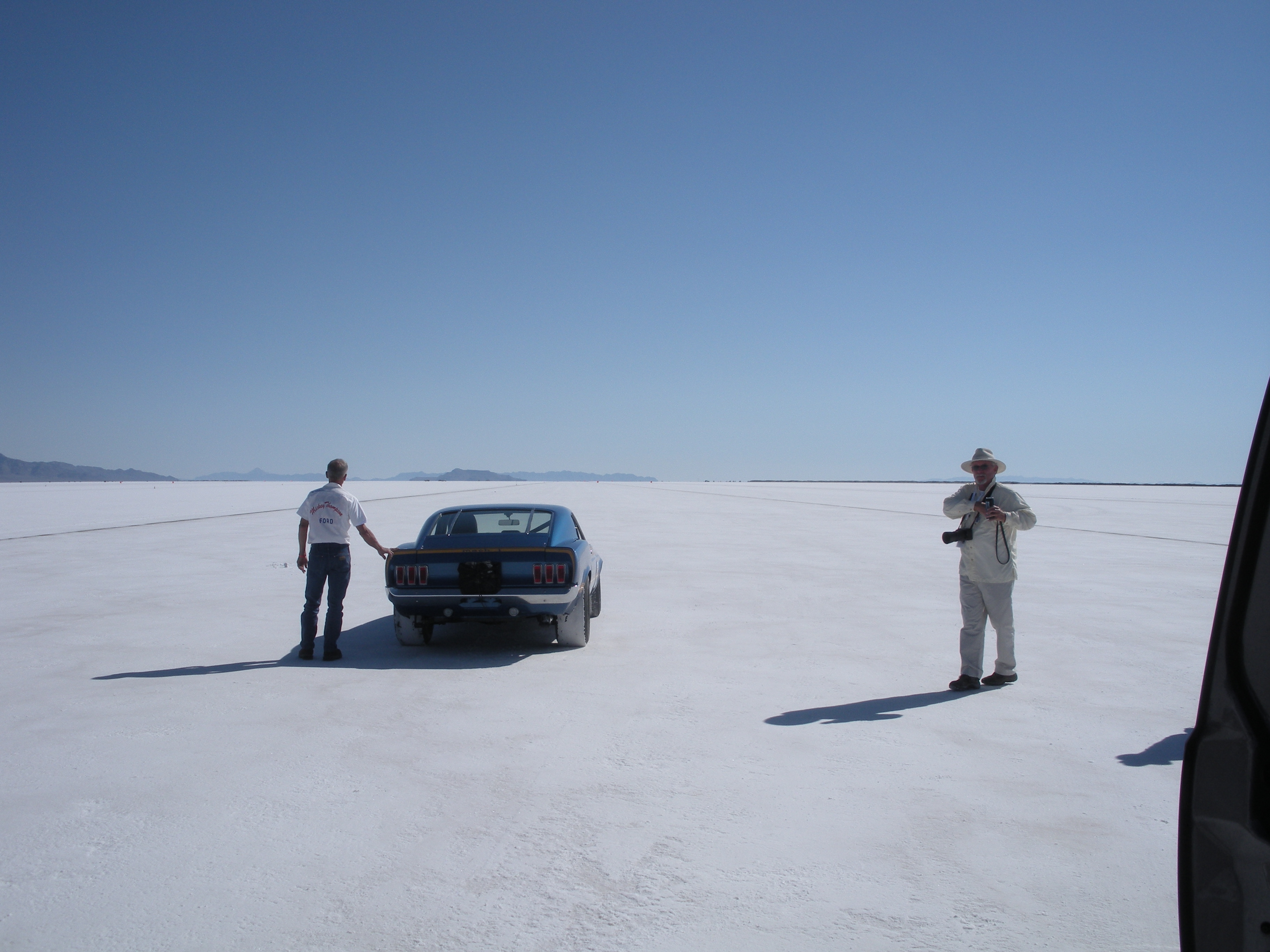 The turn of the wheel
I unloaded the Kaw SuperMoto at the start of Summer. It was a '96, motor strong, but some little issues lingered on long enough that I realized I'd fallen out of love and wasn't going to correct 'em. Somebody else will enjoy this thing..
When Craigslist finally paid off, (after wading through a ton of trade offers and semi-crazed lowballers who had formulas for how much things are worth and were willing to share the formula) the buyer was adamant that I hold it for him, and drove up to Portland from Coos Bay that day. He's written me twice since to rave about how it works for him. Perfect!
But.... when I gave him the title, I realized it was the first time I'd been without a street bike since 1979. It felt ... funny ... in a bad way. I told my wife as much, and she suggested that I get another bike; but the very reason that had me sell the Kaw when the weather was getting warmer militated against buying anything then. So I was streetbikeless for the summer. I gradually stopped sighing when I'd notice my riding suit hanging in the front hall. We were plenty busy car rallying, and bicycling, so I didn't have time to pine away. By October, with night closing in on the circle of Portland's orbit, motorcycling seemed far away, like something I'd done once upon a time.
Thanksgiving came, and then in early December I found myself browsing cycle ads; and thinking about cycle shows; and trying to find, as always, the perfect bike. It was an academic exercise as much as anything: "What would I buy, if I were going to buy something?" It's the right time of year to contemplate buying a bike -- there are unreal deals on used machines (folks need holiday cash), the new models are just around the corner at dealers so this year's leftovers are on steep discounts, and those new models may have irresistible features but be yet available. So while I bounced through print and online classifieds looking for a big inline four w/ shaft ready for a sidecar, or a Ducati/MotoGuzzi owned by a fastidious fanatic, or a Corbin Merlin, I also checked out new stuff.
New stuff is 90% crap. Every "sport" bike now has the exhaust pipes rammed up under the seat, regardless of what contortions the header has to go through to get there. The Standards are sometimes tarted up with plastic chrome, sometimes stripped down so much that they're guaranteed to decay immediately, the Cruisers are bigger and bigger and customer and customizabler and lower and sleeker and, yep, more Harley like 'cept now not stock Harley like but more Arlen Ness meets Abbie Hoffman and they had a baby called it the Vulture 1600. Supermotards are cool but I know the limits of those bikes -- when you face 50 miles on a freeway with reluctance, it's not exactly a universally useful bike, izzit?
The Honda ST1100 is now the ST1300? Whatever... the Concours is now the Concours 14, oooo. The Harleys have more colors and submodels than ever, the V-Rod is a trick motor but the chassis is poser squared. I was reaching the point that I've reached each of the past three years in this exercise: The only new stuff that interests me comes from BMW and Buell. And I sniffed around at one of Bimmer's new k1200r sports... wicked power, probably not so much rheostat as rocket sled; but you can get ABS (extra cost option: STILL?) and then that one-time deal was gone and I was back to the boxer.
Well, back to a twin, at least. A twin without a chain. Fuel injection would be nice. Ya know, a little bit of gravel is not a bad thing, I like being able to ride up a fireroad if the occasion calls for it. So then where were we? The R1200GS, of course, hey you can get ABS (extra cost option: STILL?), Telelever is cool, the new hollow rear axle swingarm is trick looking. And on the Buell side? They have the XB12X, that neat rim-mounted front brake, supposed to be built for taller riders, and the only Sportster I ever rode gave me grins down the Jordan Road. And so it was down to two.
Not just because my wife encouraged me; not just because it's designed and assembled in North America; not just because I met a member of their racing team on vacation last year; not just because it fits me so well; not just because I like aircraft radial engines and the common crankpin gives a similar sound; not just because it's got hydraulic lifters; but for those and a dozen other reasons I made an below-list offer on an '08 Buell "Ulysses". That they took it without much struggle probably means I was still too high, but I'm good with it. It was a pleasant transaction all round.
Is it sweet? Yep.
Mustn't get caught
Why am I surreptitiously waxing the spare tire well in the trunk of the 'niner? There's a perfectly rational explanation, which I'm about to share with you, but before I do so you must pledge never to divulge these facts to my significant other. You see, she suspects me of going somewhat overboard w.r.t. cleaning the car -- she uses the phrase "Oh See De", which I assume is latin for "help me god" or some such; and if she heard that I pointedly applied a good coating of the finest carnuba to a surface that a) is exposed to the elements an average of five minutes a year, and b) is not visible to anyone but the mechanic, ever, well, it would just add unwarranted support to her suspicions. It's better, really, if she not know. This is certainly not positive deception, and hardly even qualifies as a lie of omission. There are many little details of car maintenance that I don't share with her, and this is just one more.
So, then, why? It's simple enough that introductory logic can capture it entirely. Here are the premises:
The iX is an AWD car with fixed-configuration anti-slip devices (simple viscous couplings, no fancy electronics or variable clutches).
Such cars demand that all four tires be similar in size to prevent overheating and damaging the anti-slip devices in normal driving.
I've installed the gnarly Silverstone gravel tires on the iX in preparation for Night On Bald Mountain and later TSD events, and those tires are a bit bigger than the normal street tires. Naturally I have a same-size spare.
The spare tire is stored in a well under the floor of the trunk. That well is just large enough for a stock size tire to slip in.
I think that should convey the issue. When I put the Silverstone spare in the wel, it doesn't say "clunk" as it settles to the bottom -- rather, it goes "squawk" as its sticky circumference wedges itself in the tapering walls of the well. It's possible to retreive the wheel from the well when you first drop it in, but after a hundred miles of vibration, I expect that thing will be stuck but good. I hope that the wax will act as a release agent when the time comes to remove the spare.
Rattle, rattle, ... cough!
The Honda CR-V, that trusty steed, that noble servant -- got sick last week. Oh, it'd had a bit of a rattle lately, just a tiny amount, when started cold. It sounded like "loose valves" (meaning the valvestem-to-rockerarm-clearance was excessive) and not too serious. I was waiting for a service interval to adjust 'em, and really not looking forward to it.
The camshafts are driven by a dry toothed belt, and that is a maintenance item too. We were getting close to the belt's replacement window on the last gravel rally, and just before the rally started I worried (for an instant) that the sustained high revs and slippery conditions might overstrain the original belt. After that moment of weakness passed, I just held 'er to the wood when necessary and smiled at the rolling dice.
But I wasn't driving the thing when it started to buck, and spit, and lag, and die at stoplights. My co-driver was... I summarize her report: The dreaded Check Engine light flickered then beamed. Though not a drive-by-wire car, the engine revs seemed unrelated to the throttle position. Making it off the freeway felt like beaching the lifeboat after escaping the maelstrom.
It limped home, and started readily enough when I set out for the local Autozone and their free code-reading service. Reminded me not at all of the last time I took a cat to the vet -- the sicker they are the less they want to go... but I digress. The ODB-II connector spat out a couple codes, one a simple "Cyl #4 misfire" and the other an obscure dealer-centric "Crank position sensor intermittant". Eeek. The latter is associated with "cam belt one tooth off" in the code reader's little laminated cheat sheet. I had a second moment of weakness and worried that the cam belt tensioner was out of adjustment far enough to allow such a hiccup. If so, the engine was a hair's breadth from destruction... on the razor's edge with a hex of bent valves and four gouged pistons waiting in the chasm.
The misfire was an easier diagnosis; the plugs were 14k old, the wires original equipment, the cap and rotor of unknown vintage but certainly > five years and 60k miles. Autozone's free code reading service sold those tune-up items as intended, and I babied the CR-V home. Since the timing belt was due, I picked up a belt and a water pump from the local dealer (sidebar: when visiting your Genuine Honda Parts department, bring in a couple printouts from Internet Honda Dealers showing the prices offered online -- it's good for a 25% savings on what you would have paid) and tore it open.
Didn't take long to find the misfire problem. The #4 spark plug well held 30cc of water. Same with #2. And the cause? Yours truly, washing the motor after Thunderbird. Apparently I was a bit zealous around the plug caps... But with the cam belt in hand and the radiator already drained, I pressed on. It turned out to be less traumatic than a visit to the vet, and the freshly adjusted valves really quiet down the cold motor. So the little engine that could will spin on...
When do we turn?
We'd prepped for weeks for this thing. Had supplies and heavy-duty cold weather gear spread all across the pool table in the parlor up until we loaded Thursday night, checklists, bought a mummy bag that would be "uncomfortably hot" at temperatures above 10 degrees.
I'd hunted up some Finnish snow tires with tall studs, and had 'em on some spare Honda rims. After almost getting a ticket at Armageddon for my rack-mounted driving lights, I'd moved the Hellas to the front bumper. Changed fluids, installed a battery blanket, . Don't even get me talking about the 'niner and the waffling about possibly taking that beast...
So we went north in the Honda and made it to Merritt in time for the Novice class Friday afternoon. There was a lot of talk about black ice, some reviews of our responsibilities should we come upon an accident, and a reasonably strict tech inspection. The weather was clear, but the temperature dropped like a rock when the sun went down. My navigator had become dehydrated and was fairly out of it Friday night, which added to my nervousness but also let me be realistic about our chances -- there were more than 14 or more cars in our class, and it's a safe bet that most were more experienced.
Saturday morning waiting at the end of the odometer transit for the first regularity to start, the sun had not climbed above the surrounding hills and exposed fingers went numb quickly. Little patches of hard ice were in every shady spot, but the sun had been working where it could for several days, and much melting was occuring above us. The first regularity had some snow and ice, but the predominant character was mud and water. "Mud bogging" and "the sippy hole" were terms that others were using by lunchtime. The transition to kilometers was pretty easy, since the auxillary odometer has no idea what the units are -- you just tell it that 1510 "ticks" is equal to 1.00 "units", and it's happy to provide measuring services.
Until the second regularity. More mud, and I've driven the Honda on logging roads enough now that I can handle hills better. How? The thing had only 120hp new, with less torque than a Millwaukee 24v impact gun. The secret to moving a loaded CR-V up rugged hills is to spin the motor; after all, it's a modern-style DOHCer, and the power peak (well, power hillock) is well below the redline. So for climbing I just park it above 4200rpm and run it there as long as I need to. Given the physics of the situation, a hundred horsepower is actually quite a bit, so there's a good deal of wheelspin -- on the front mostly, but the rears will kick in on a short-loop delay. There are hairpins and other major bends, usually uphill, so there's a constant stream of gravel and dirt and inch-and-a-half rock flinging back, in kind of a hot-summer-night-Kmart-fan-on-oscillate kind of pattern. See illustration At some point on the second regularity, this hail of earthy stuff blasted off one of the odometer sensor magnets from the inboard c.v. shell of the right rear halfshaft.
Suddenly every kilometer counted as two-thirds of one (there had been three sensor magnets on the halfshaft -- now there were two). A complete disruption of our rally pace followed. See, we didn't realize what had happened -- all we knew was that features in the world were appearing "too soon" according to our odo. Sound like a simple problem? It wasn't for us. You have to appreciate how nice it is to have a rigorously accurate odo on these events -- it's a major predictive factor for the driver. When you hear, "next turn in 2 kilometers", it means you can forget about route following for a bit and just focus on staying on the road. For the navigator, knowing how far you've gone tells you what time it should be, and whether the team is early or late. The utility of the accessory odo is so great that you *want* it to work, and you'd rather believe it than rely on other things. But nothing was lining up anymore.
How much did we want to believe the aux odo? Badly enough to consider, "Maybe the route book is messed up". (Riiiiiiiiiight) Badly enough to decide to pass the computer car that was TWO SLOTS ahead of us: "Maybe he's going slowly for some reason". (It didn't help our reasoning that the car one slot ahead of us had dropped out... we figured, "Hey, maybe the guy ahead of us passed this dork too".) Bzzzzzzzzt. Wrong. It was so bad that when we got to the end of the section we didn't realize it, and if a couple previous cars hadn't been stopped there to reorient me, I'd have started applying rules of precedence to continue... (on a tulip-diagram-driven rally? wtf was I thinking?) Somehow the cause of the problem occured to me, and a quick reset of the calibration factor to account for only two magnets brought things back in line for the next regularities.
On the last timed section of the first day, run after dusk, we had more snow and ice along with some attention-getting slick downhills (with turns, of course). And then we saw the warning triangle. Then we saw the SECOND warning triangle... and crawled around the corner to find an AWD car deep in the rh ditch and a panting driver shoveling out the nose. They were car #5, and we were #19, and no one had pulled 'em out. Because we'd like it if someone pulled us out, we spent around four minutes tugging them loose. The rule book was vague about whether we'd be "charged" with late points for helping, and as it turned out we were.. (there was a reason that cars #6-#18 hadn't stopped). If we'd left em, they'd have had to wait at least another half-hour for the last car and then hope the sweep truck got 'em. But on the bright side, they did buy us a bunch of beer Saturday night in Vernon. The new rule we have is: "No blood showing? No help for you."
So the first day had some ugly scores for us. The odometer hallucination cost us plenty, and the tow-strap helpfulness did too. We were near the bottom of the pack overall. The second day weather was a carbon copy of the first, and we heard in the driver's meeting that the "sippy hole" that had swallowed at least two cars the day before had increased in size... and the leg containing it was likely to be cancelled. Off we went to the best snow roads of the event, big wide uphill-downhill sweepers and hairpins very lightly populated and quite a hoot. If we'd not been in the event, we'd not have been driving as fast as we were. The pace demanded we run with less "margin of control" than ordinary... it was curiously freeing to know that 18 cars, of all types and driver skills, had already been through at that pace, and that if we managed to biff it into a snowbank, there'd be a car along in a minute to render emergency aid if needed.
Then it was back to the mud. Another sensor magnet was dispatched by rocky vomit in the middle of the longest section on day two, but my navigator recognized the problem and recalibrated the odo as-we-drove... we finished with our best performance of any section (and for that section, well up in the overall non-unlimited standings). The sippy hole section was cancelled, and we left Merritt earlier than we'd planned to and drove home to Portland Sunday night.
The results have just come in as I'm writing this, and our adjusted-for-good-Samaritin-action finish STILL has us well out of the calculator class trophies. But we learned a lot, and had some fun.
Here's a shot early on... you can tell because the car still looks red: T-Bird 2007 By Sunday afternoon the mud was caked on and flaking off...
Off center redux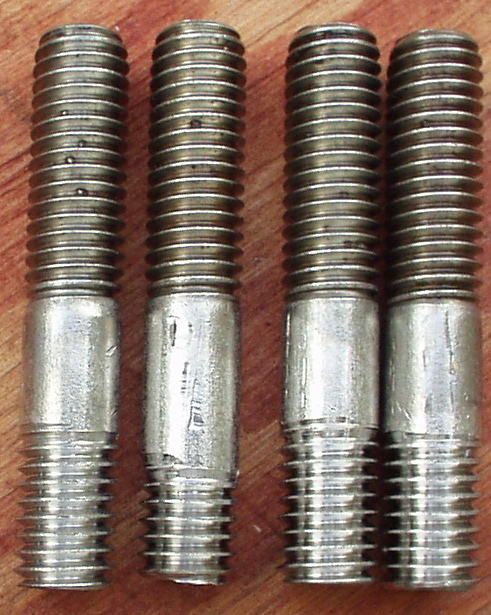 1966 was a good year for Mustangs. The earliest models' design errors are resolved, repro parts are plentiful and modern component conversions are well worked out. Ford built so many 'Stangs in '66 that even the 'rare' factory options are well documented -- case in point: the 'K' code Hi-Po motor stuff. This was 289 with a bit more oomph than the 4V model; solid lifters and largish cast iron headers must have announced themselves at idle, and if we sold cars by sound the option might have been less rare.
Our Mustang is a lowly 2V model, more go power than the silly six but not even a four-barrel carb. Of course, these days you can buy a turnkey 350h.p. small block from half-a-dozen suppliers and get all the rump-rump-rump your ears can take. But that kind of h.p. seems like overkill to me. I've seen the brakes on this car. I've seen the inside of the door panels and not seen, if you get my drift, any side impact reinforcement. Adding that much motor to a stock body ... (did I ever mention that I had a 462 Lincoln motor 75% of the way into a Pinto body before I came to my senses?)
Still, where it makes sense, we pursue upgrades. One needy area is the stock exhaust, log manifolds hooked to a constrictive Y-pipe and cheapie transverse muffler.... with multiple exhaust leaks. I replaced a flange donut in the parking lot of the Grand Canyon North Rim Lodge because I was afraid that the busses of South Rim visitors might hear us pulling out. Since then other exhaust gaskets and the intermediate pipe have been re-newed, but again the "pfft, pfft" of a leak punctuates idle.
Here's that effect of high production numbers again: from more than one parts house you can get long tube headers, short tube headers, engine swap headers, stock log manifolds, and even reproduction K code cast iron headers for your 1966 Mustang. I've always wanted a set of high performance cast iron manifolds, ever since I saw the cherry-red streamlined cookers on the Walkers' 413 Wedge irrigation motors. So we ordered some up, a faraway casting shop poured a dozen sets, and the local Mustang shop (one of five in the city) sold 'em to us cheaper than mail order without a shipping surcharge. My favorite hi-tech coating place sizzled chrome-like ceramic over them, and for about $450 we were good to go. Except that...
The manifolds, being new, came with new fasteners. Nothing special here: 5/16" SAE bolts with hex heads and split ring lock washers, plus some symmetrically threaded 7/16" NF studs for the flanges. But... the fasteners were plain old steel (with a light silver plating) and really didn't do the new manifolds justice. I was particularly unimpressed with the studs; exhaust flange studs have a hot nasty job, and regular-quality parts generally look terrible after a year or so in that position. Stripped threads and vibration wear let the flanges wander, and then the "pfft, pfft" is back.
Summary in lieu of many additional words: hand-threading decapitated stainless steel bolts takes cutting oil and the patience to line the die up right... otherwise the threading process may "walk off" the bolt, or at least be going that direction. Photographic evidence
Update The manifolds are installed, and with a nice custom dual exhaust system the car sounds wonderful and displays a stonger throttle response off idle. It'll turn a tire.
Carrot on a stick.
Ahhh, the lure of collaboration. Just the thought that word brings to mind: an army of like-minded troopers all storming the gates or fording the rivers in concert. In *my* modern world, I'd settle for showing up to appointments at the right day and time.
And that is what the big software publishers call collaboration. Oh, sure, there's document co-authoring with versioning, and mixed-mobile-push messaging that ensures no vacation shall go untrammelled by the call of business -- but the heart of the thing, the vital center of the process of organizing and directing mass human energy... that's shared calendaring. Shared Calendaring is, apparently, a hard problem. The leading software for group calendaring only runs on one operating system, is published by the same company that writes the O.S., and even it is a quirky, tardy, tricky, aggravating toad of a program set.
Luckily for me, I don't buy that brand of software. Unluckily for me, the available alternatives actually make the leading software look effective. You can roll your own (sixty different ways) using open source components... you can buy a small company's vertical solution if you're in the particular industry they target (I'm not)... you can use the anti-leading-software way, but you need to have bought into the whole anti-leading-software lifestyle and be happy paying a subscription fee and allowing someone else to store your personal and business data. Yeech.
And I had one other "requirement" that a calendaring system would have to support. About two years ago, I made the mistake of buying a smartphone. Trademarks aside, all that really means is that the small device in my pocket can do more than the ordinary cell phone -- in this case, it meant that the calendar program on the phone had the capability of synch'ing over the web to a calendar server! Well, that sounded like nepenthe to me... I usually have the damn thing with me, so keeping a copy of my calendar there would mean it'd always be handy. And being able to add events to the phone while I'm out could relieve my need for web access. If I were more disciplined about synching the phone, natrually, I could just use a cable or bluetooth from a PC -- but I am not enamored of tethers like that. Aside from demanding a routine that interferes with spontaneity and leisure, I'm just not tied to one-and-only-one PC. If I'm synching the thing at work, do I also have to synch it at home? Do I need two cables now?
Bah -- forget all that. The phone can sync over the web... anywhere you could make a phone call, you could update your central calendar. Now all I needed was calendar server software that would handle the backend stuff. The resulting quest almost ate my brain...
At one point, two full-on Linux servers were in place to handle the all-powerful, all-singing, all-dancing, all-purpose Collaboration Software Suite (tm). Oh, calendaring worked fine; so did the e-mail server; and the File server; and the Contact List; and the Workflow Unit; and the Mobile Messaging processor subfunction hander assistant coordinator agent activator. All that worked fine... until upgrade time came, and the README said, "There is no upgrade path for data stored in certain components." Hah! The aich eee double-hockey-sticks with this carp! Something less is required!
Skipping the mere technical details, Oracle Calendar, stand-alone edition, will run on Slackware 10 -- despite the Oracle installer throwing hissy fits. You just need to make the Installer see what it wants to see... Once it's installed, you can even get your family members to use it. It syncs to my phone over the web. It has Windows integration. It has a Mac client, and a Linux client. There's an API that I've never had to look at -- and the annual service contract renewal costs $35 for two users. Recommended.
The KLX650 was high - much too high in the rear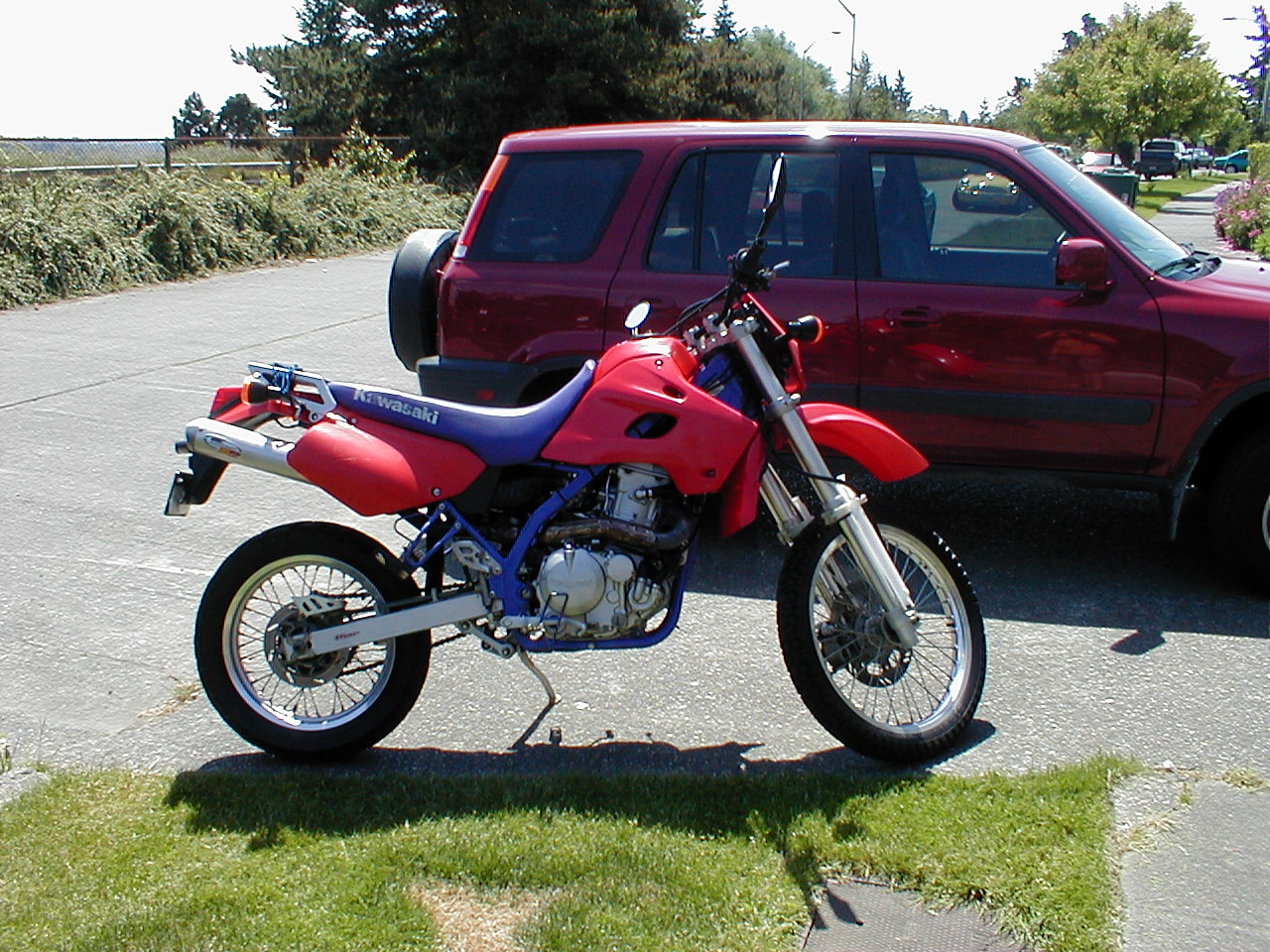 After swapping the 21" front wheel for a 17" wheel as part of the supermotard transformation, the bike had adopted a seriously nose-down attitude. Normally the accompanying decrease in rake should also make the machine twitchy at speed. That it did not suffer from any instability is probably due mostly to the first-rate wheel lacing job performed by Rick Gervasi.
But the front drop had other problems. Weight transfer under braking was exaggerated; the rider had to continually push himself back from the bars under cruising conditions; and the bike's tendency to wheelie was reduced. The high seat also made sand sliding on the beach more unnerving than necessary. The back of the bike needed to come down.
"Well", I hear you saying, "it's a simple matter: modern dirt bikes have fully adjustable suspension, just crank down the spring preload (or add an internal spacer to the shock) and you're there." Were it so easy... The KLX is the street version, with a larger front disk and more stator output - but the rear shock is non-rebuildable and has only a five-position old style spring preload. No, more extreme measures would be necessary.
How 'bout a replacement shock, either from a dirt KLX or from Works Performance? Sure, they're available for around $800. Eeek! I'd rather use that money to buy the insanely sticky tires that the thing eats. Nope, less costly means, please. Okay, several places sell (or used to sell) "lowering links" - replacement pull rods for the Pro-Link style rear suspension that leave the shock and bellcrank where they are, but extend the distance between the bellcrank and the swingarm. The possibility of bottoming out the rear end increases, since the shock can still travel the full distance and the rest of the linkage hasn't changed. But the KLX has never come close to that kind of travel utilization, so I figured it was a safe bet. But the links are not widely available, and they cost about $100. Now that figure is more within my budget, but that much money for such unexotic parts offends my sense of propriety. The pull rods that are on the bike are simple stamped steel dogbones, with no adornment and little structure.
Hell - I could even make those! Hah! Without a drill press? Without a grinding wheel? Without even access to the appropriate raw materials? Without a garage or workshop? And yet the idea beckoned me, like the siren's song to Homer's wanderer. And so the barest investigation began into the difficulties, with the least little hiccup to be the trigger for a reluctant purchase of the overpriced pre-manufactured links.
Surprisingly, Pearl Hardware had a perfect material in the rack: hot rolled steel bar, 1/4" thick and 2" wide. The steel would be soft enough to work with light tools, but stout enough to handle the 330# pound bike. I bought it and a can of rust-resistant spray paint. The drill and bits I had - likewise the hacksaw, workmate "vise", and files - only the design was missing. Since I had the existing links, and the only dimension that needed to change was the center-to-center length, it seemed that the way was clear. I'd track the existing link design, and make the new ones longer by ...? By how much? Well, the rear needed to come down about 2". What does that amount to in terms of link length?
Answering the question "how much longer" took a while. The experience let me reflect on how valuable geometry and algebra can be if you decide to fabricate your own suspension parts (I'm sure those techniques are good for other stuff too). In the end, I decided not to build a detailed 2D model in some CAD program and let the code answer the question, and I likewise rejected both a scale model of the suspension built from cardboard and a full calculus approach. As it turns out, measuring some points on the bike as it was let me determine two triangles present in the suspension, that shared a common side (the swingarm), and that had only the angle of that side as a variable. A quick romp through the law of cosines and some spreadsheet-based numerical calculations, and the answer was: about a half an inch. Great. That's probably what I'd have tried based on the heuristic method of guesstimation or the empiric approach of removing the stock links and jacking the rear tire up two inches, then measuring the necessary length.
In any case, I had the figure. A bit of hacksawing made two rectangles of steel. A bit more made oblong hexagons. A succession of five drills from 1/8" to 40/64" cut the operative attachment holes; and twenty minutes work (per rod) with a medium cut flat file rounded the ends. Scotchbrite and brake cleaner prepared the surface - the rattle can came out from under my sweater where my ample body heat was keeping the paint fluid. Voila! Crude but effective, and ready for installation.
I was dreading that part, having heard horror stories of frozen suspension bolts on neglected bikes (not that I would ever neglect one :) ) but the pivots were riding on two rows of needle bearing that were still sealed and greased. Ahhhh. Done. The bike is, according to my tape measure, 2" lower. It feels like a minibike almost. Now when I shake this cold I'll take it to the beach and see if it slides with more confidence. Here's the current stance: SuperMotard KLX650 Photos
Copyright 2004 Marinus Damm